Schedule Your Appointment Online!
Meet with Valerie by phone or online to discuss your needs and learn how energy balancing can help. We'll talk about the different options available and answer any questions you have.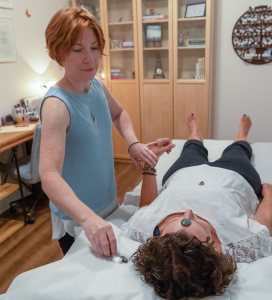 Kinesiology
Balancing Session
A highly individualized and interactive session where many different energy healing methods may be used to help you achieve your desired outcome. It starts with a conversation about your challenges and goals and a baseline evaluation of your energy systems. Muscle testing is used throughout to gain insight from the body and determine the most beneficial techniques for you at that time. Each session is designed to meet your specific physical, mental, emotional and spiritual needs.
Unable to make it during office hours? Have a specific issue you would like help on quickly? This session combines intuitive work with Kinesiology and Reiki to bring you insight and healing without the need to be present. This is a great option if you are in another time zone, have a specific need like a new physical pain or emotional challenge, or you are looking for a more intuitively guided session. Within 24 hours after your session is complete, you will receive an email that details the healing work that was done as well as any insights and guidance that came through.
Reiki is a simple yet powerful system of natural healing that works both in person and distantly.  You and the practitioner do not need to be in the same location for the healing work to take place. There is nothing you need to do during your appointment time, but you may choose to relax in a comfortable space. This session can be used to address specific concerns or for general relaxation and balancing. An email with session observations is included and will be sent within 24 hours of the completion of your appointment.
Bach flower remedies are safe and natural flower essences that work synergistically to bring balance to the emotions and in turn, the body, mind, and spirit. Each flower aligns with a different emotional state and helps move you from the negative to the positive. During the consultation, we will discuss your current emotions, challenges, and general temperament. This information, combined with muscle testing, will be used to identify which specific flower remedies may be most helpful to you. After discussing the potential of each one, we will choose up to 7 to include in your customized remedy. This remedy will be yours to use at home for ongoing support.
Online scheduling is fast and convenient. Should you have any issues, you can also schedule your appointment by calling 919-355-5529.